You ask? What Is The Maximum Hydration Method?
The #MaximumHydrationMethod is a hair care regimen (typically comprised of five steps) designed to "systematically increase moisture levels in the hair until max hydration is reached."
If you're someone with low porosity hair (meaning the hair cuticles are tight and sometimes resistant to soaking up water and moisture), the five-step regimen is said to hydrate, strengthen, and stretch curls while maintaining volume.
Ok, let's break down exactly how to master the Maximum Hydration Method.
??Step 1: The Cherry Lola Treatment
As the first step in the Max Hydration Method, you'll want to create a mixture that's known as the Cherry Lola Treatment, which combines a number of ingredients (including greek yogurt, amino acids, and baking soda) to hydrate, reduce frizz, and make hair easier to detangle. Before you get started, you'll want to take the Cherry Lola ingredients and smooth them in a blender, then pour them into a bowl.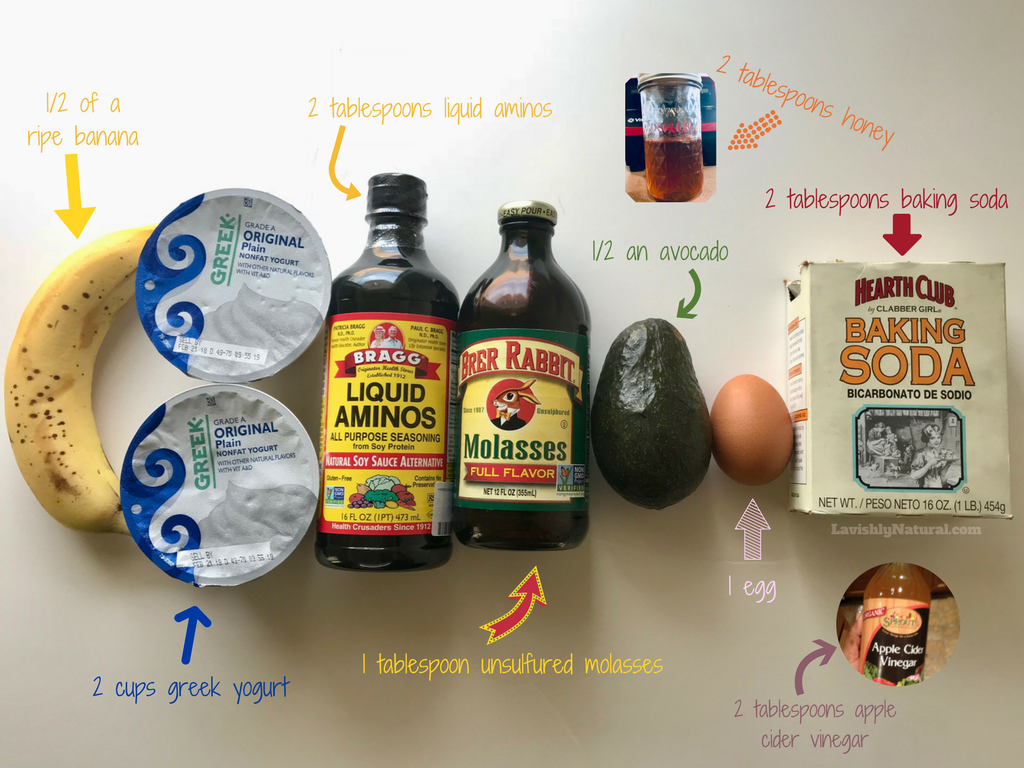 Recipe I used (adjust according to hair length):
2 cups organic plain yogurt
2 tbsp baking soda
2 tbsp organic apple cider vinegar
2 tbsp raw coconut amino acids or regular amino acids
1/2 tbsp raw honey
1 tbsp Unsulfured molasses
1/2 an overripe plantain or banana
3/4 tbsp avocado
1 egg
When your mixture is ready, you'll apply to clean, dry, detangled hair, saturating it from root to tip. Once each strand is evenly coated, put your hair up into a shower cap. You'll leave this on for between an hour and a half to two hours and then rinse thoroughly with warm water.
??Step 2: Clarify
You have two options here: You can mix a baking soda rinse or an apple cider vinegar rinse. Both are easy to create.
1. Baking Soda Mix: You'll mix one and a half tablespoons of baking soda into 1/3 a cup conditioner and let sit on the hair for ten to thirty minutes.
2. Apple Cider Vinegar Mix: You put in a spray bottle with a 1:1 ratio and spray on hair leaving it for thirty minutes to an hour. To skip the mixing, you can also use a pre-made apple cider vinegar rinse. *In the video I did the acv mix
??Step 3: Co-Wash (use protein-free products)
Since some shampoos can strip hair, co-washing cleanses while conditioning which is beneficial to natural hair types. You'll section the hair and apply your co-wash product from root to tip, apply a shower cap, and steam the hair for twenty minutes, if you don't have a steamer, sit under dryer or leave on under plastic cap for 30 minutes.
??Step 4: Bentonite Clay Rinse
Depending on your hair's needs, you can mix the clay with honey and an oil of your choice. Ingredients:
1 cup bentonite clay
1.5 cups of warm water
1 tbsp of honey
1 tbsp of olive oil
Clay masks can be messy in general, so applying it to the hair will likely result in a mess. To ensure you get the benefits, you'll want to separate the coils as you go and apply the mask in thin layers to prevent the hair from tangling or clumping together. You'll leave this on for at least 15 minutes. Then rinse with luke warm water.
??Step 5: Apply Styling Products (use protein free products)
Leave-in Conditioner: For this step, you'll want to do in the shower or under running water to ensure the hair gets all of the water it needs.
Gel or Creme: Now, you'll apply your creme/gel or both to sections.
Once you've applied your styling products of choice, turn your head over and give it a big shake from side to side and up and down to separate your curls without touching them to prevent frizz. Dry as you like and you're done!
See my results here: