2016 SUMMER LOOKBOOK!
Hey y'all! Assuming that everyone has had enough of this cold weather in the Spring let's jump straight into the topic: Summer! I put together a couple of looks and list the details below.
The Perfect Boyfriend Jeans
Boy ole Boy! I searched high and low for some boyfriend/girlfriend jeans that fit right… Always had a problem with them being too tight on my legs… Then when I size up they fall off lol… Well, these jeans were on the money!
For my top, I decided to go with an off the shoulder look. This sweetheart off shoulder crop top is fun and flirty.
This casual look is cute, affordable and easy to recreate. You can definitely chose to wear a pair of sandals or flats instead of peep toe heels, either way you'll look amazing.
For accessories, you can play around with different pieces of your liking.
Pants: (Express) Top: (Love Culture) Shoes: (Bebe)
Suspender Jumpsuit
A jumpsuit can easily be dressed up for a formal event. If the style of the jumpsuit is appropriate, then all you have to do is accessorize it to fit the party.
I kept it simple in this navy jumpsuit and paired with a crop top under and a pair of sling back peep toe pumps.
You can polish the look with an envelope clutch and you're out the door!
Jumpsuit: (missguided) Top: (nastygal) Shoes: Bebe
Lady in Red
With the weather breaking and you don't know what to wear… You can always pair your shorts with a light blazer. In my case I went with a red short suit. I just love this outfit… Simple, but always a classic. Since the suit is solid red you can always color block or add a pattern top.
I chose to keep it simple with an off white crop top bustier. I paired with some tribal printed shoes along with the oversized clutch to match.
Classy but chic.
Suit: (missguided) Top: (nastygal) Shoes: (Bakers) Bag: (Bakers)
Denim Jumpsuit
With so many options and so many beautiful pieces to choose from when it comes to shopping for a casual event or just to go out with friends and have a great time it's no wonder we often get stuck in the usual "I have nothing to wear" stage! Yes, it can definitely become a very stressful and inconvenient situation especially when we have the tendency to leave everything for last minute.
When I'm in that situation. Throwing on a jumpsuit works for me… Next, I just figure what bag and what shoes and that depends on the type of event you're attending.
This was a casual outing, so I paired with an oversized neon pink bag and blue suede pumps for a little color blocking action.
Jumpsuit: (NY&C) Shoes: (Jessica Simpson) Bag: (love culture)
Cowgirl Bliss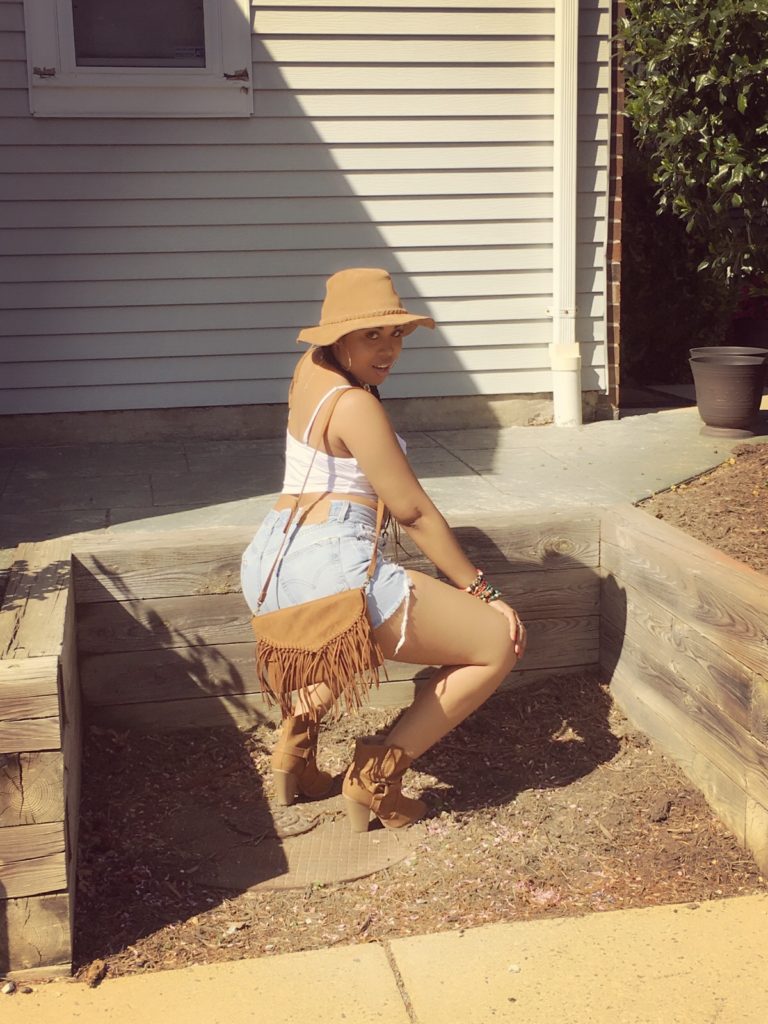 I have always been a very big fanatic of cowgirl boots and hats. This year, however, I decided to stop admiring and get myself some boots and a hat!
I felt like I needed somewhat of a change from our typical summer looks like sandals and flats. I'm a huge believer that dressing should be "season-less" with common sense (of course)!
I paired these super comfy sexy boots and hat with a pair of old distressed denim high waisted shorts, crop tank, and a fringed crossbody bag. I'm festival ready… Don't you agree?
Hat: (Express) Top: (missguided) Shorts: (Old pair of Levis) Boots: (Express)
VIDEO: