NEW YEARS EVE PARTY LOOK
Don't know what to do with your hair for that New Year's party?!? Sleek it back and serve face! A protective style never hurt nobody! Kudos to me, I'm now 13 months natural!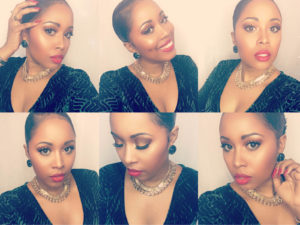 Products Used:
-Hair- (provided by: As I Am)
Coconut Cowash, Smoothing Gel, Detangling Conditioner, CoCoShea Spray
-Makeup-
ABH World Traveler palette
Juvia's The Nubian 2 palette
Nars Casino blush (contour)
MAC Sheertone Shimmer Blush (color: plum foolery)
Makeup Forever HD Foundation (color: N153)
Makeup Forever Pro Finish (color: 168)
Ben Nye Banana Powder
Beauty Blender
KISS (i ENVY) lashes (KPE35)
Duo eyelash adhesive (clear-white)
Urban Decay Eyeshadow Primer Potion
MAC Prep+Prime Highlighter (color: Bright Forecast)
Too Faced Better than Sex mascara
Marc Jacobs mascara
L.A. Girl Pro conceal
ABH Brow Wiz
Hard Candy Stroke of Gorgeous
MAC Beet Lip Liner
MAC Ruby Woo Lipstick
All Accessories:
Aldo

I hoped you all enjoyed this year and a better year lies ahead. Thank you for your continued support. If you haven't subscribe, please do.
xoxo
-Sabrina